Lets talk bidding, it's APMP conference time
It was APMP UK conference in October and Oliver had the opportunity to present on day one. Passionate about information design and the world of bidding it was great to be able to share our knowledge to a room full of bid enthusiasts. The talk focused on how best to design and use graphics to emphasis your message by always having the reader in mind.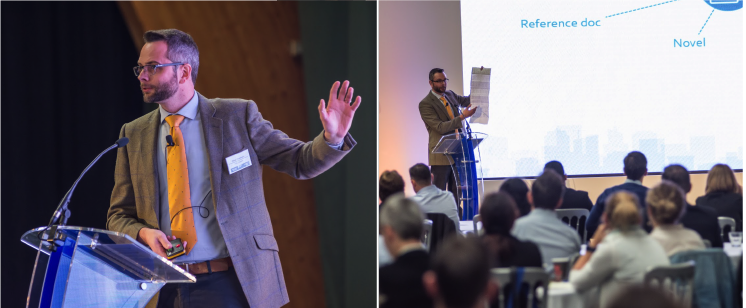 Designing for bids
At TDL we always love to give something back. Recently this has taken the form of a new service we're offering – Workshops!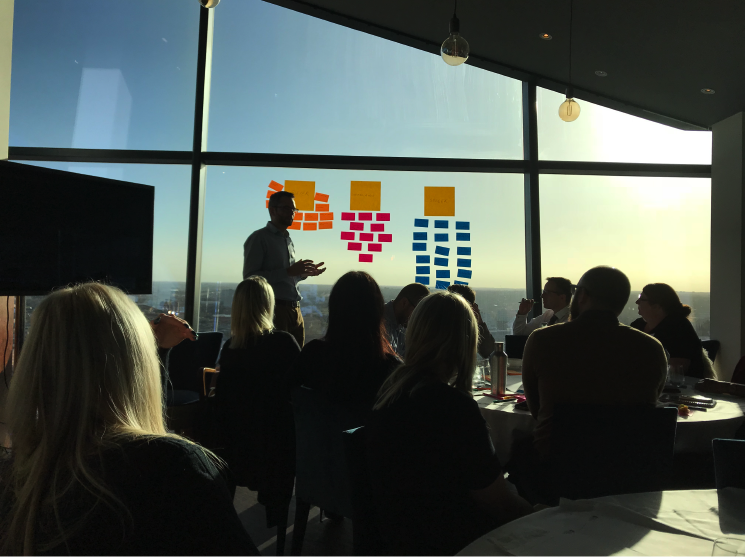 Oliver provided a session to one of our client's bid teams on designing for bids. As part of the day Oliver shared some TDL-Creative theory on how to ensure you're getting the right message across.
Everyone took part in a number of tasks to help refine their thinking, and were given some tools on how to choose the right type of diagram for the job. The day was enjoyed by all, and we're looking forward to doing some more workshops in the New Year!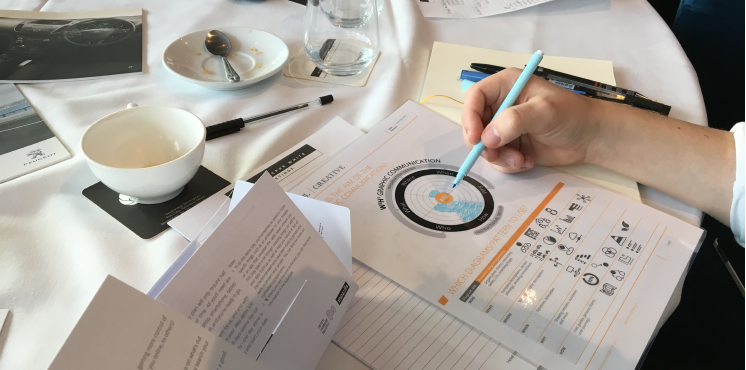 Infographic workshop notes
Workshops and forums are often captivating days that see ideas grow quickly. However, it can be hard to keep that enthusiasm and creativity going once you leave the room. Recently Craig joined one of our clients for a workshop – aside from helping out when it came to design; he was also taking visual notes (no, not courtroom style sketches). These notes became a one-page infographic poster of the day. Each of the 3 sessions was broken down into panels, and all of the highlights shown through mini diagrams and infographics. The client was delighted with the result and Craig will be back with them for another session later this month.
To have a concise, well-designed record of the outputs from a workshop/event can be really helpful. We can all be guilty of making those scribbly notes and looking back on them and thinking hmmm not sure what I meant there. By having an information designer summarise the day you are presented with a useful aid to refer back to and share with those who couldn't be there.
Roads for a modern Britain
Oliver had a great time at the Highways UK event at the start of the month, getting some great insights into the future of Britain's roads. He even got to bring along his son, who luckily is a big car fan so also had a fun time at some on the stands (always great when events can accommodate parenting needs).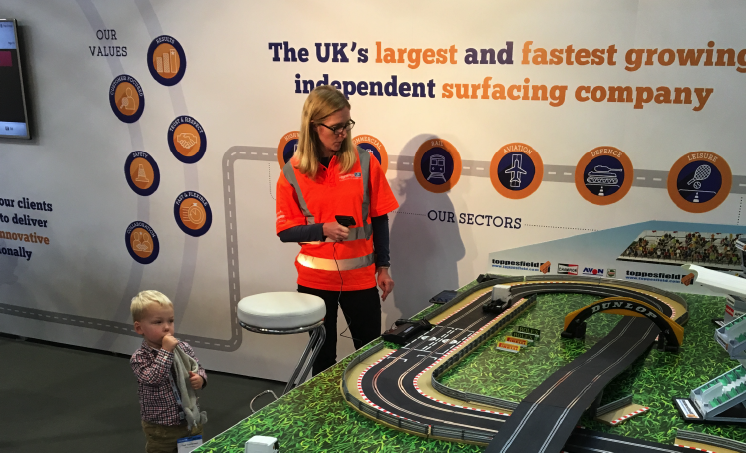 Say hello to intern Felicia
It's time to welcome our 6th intern over from the United States, twice a year we are joined by a fantastic intern. This winter for six weeks Felicia will be part of the TDL team. She is over from Elon University, North Carolina where she studies Strategic Communications and minors in Digital Art. Originally from a town near to Boston although she doesn't sound like an extra from The Departed.
Whilst here she is working on a research project for us looking into the theory of menu design. We are all looking forward to hearing her report on her findings when she presents her PechaKucha next month. She is also writing it all up into a blog post so we can share it with you too.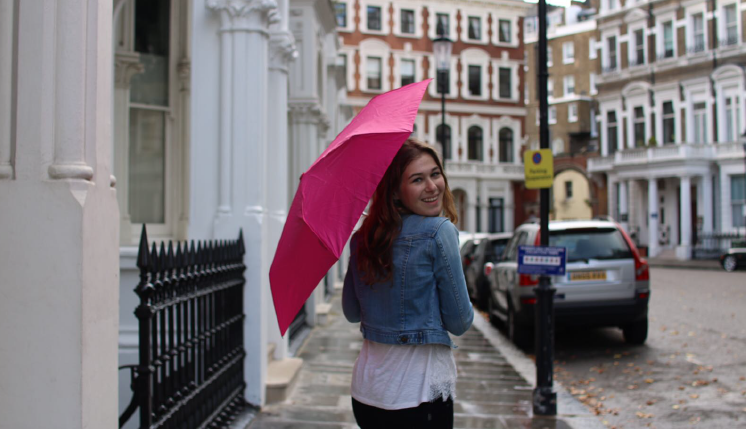 Can Graphic Design Save Your Life?
The current exhibition at the Wellcome Collection is a MUST see! As soon as we saw the advertisements for this exhibit we couldn't wait to go. The name alone was enough for us, as producing graphic design that changes lives is one of TDL's key goals.
The exhibition looks at the role of graphic design in communicating healthcare messages and how it can be used educate, save lives or simply sell us things. It's on until Jan 14 so make sure you go check it out!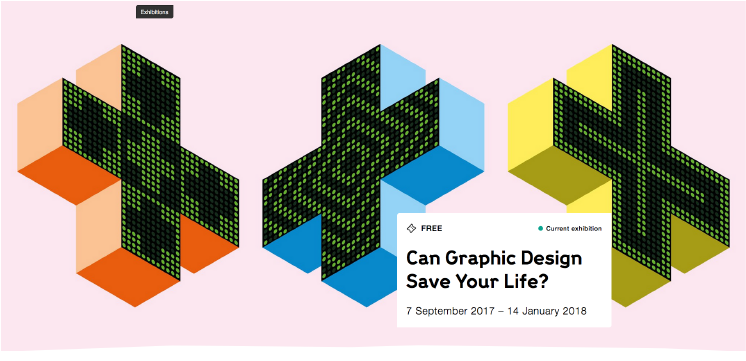 What the team have learnt about
The term 'quail' railway track diagrams got me looking on the web to find out what they were. I'm still confused on whether it's a diagram style or a trade name, but it was very interesting to see how rail track diagrams are produced.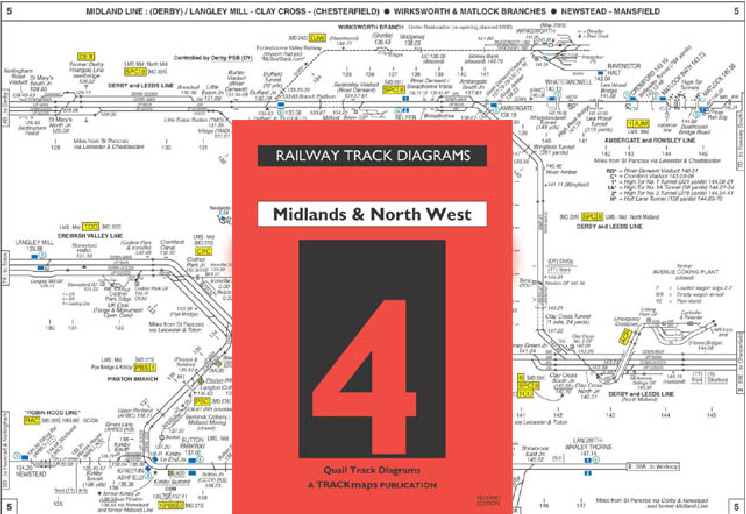 Whilst I was on holiday in Hong Kong I couldn't help but notice some of the information design around. Can you work out these ramen instructions without any words? I think we just about did, interesting to see a circle being used instead of tick.