Working with SEMP Ltd to refresh their brand and improve user engagement by understanding their communication journey.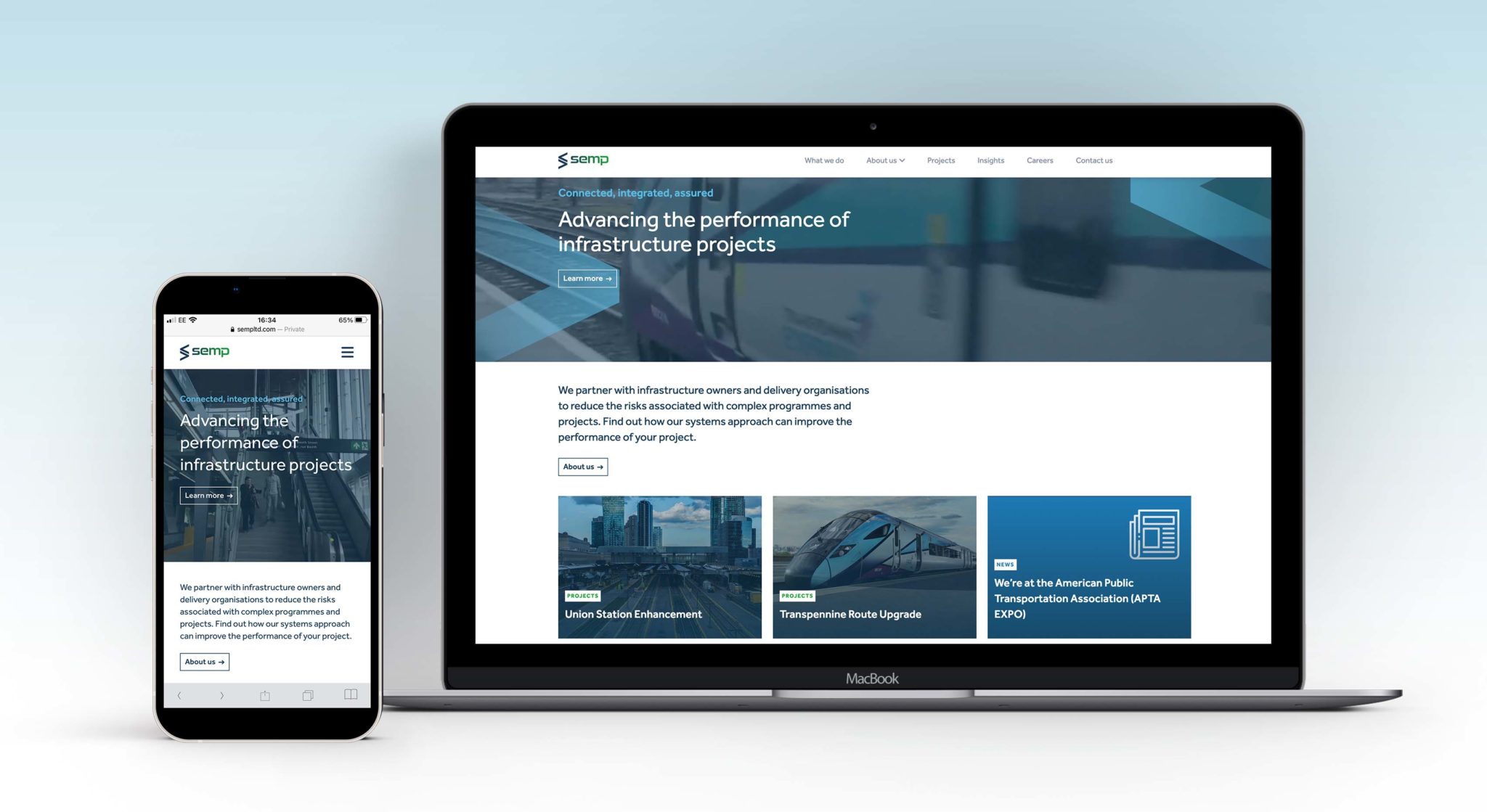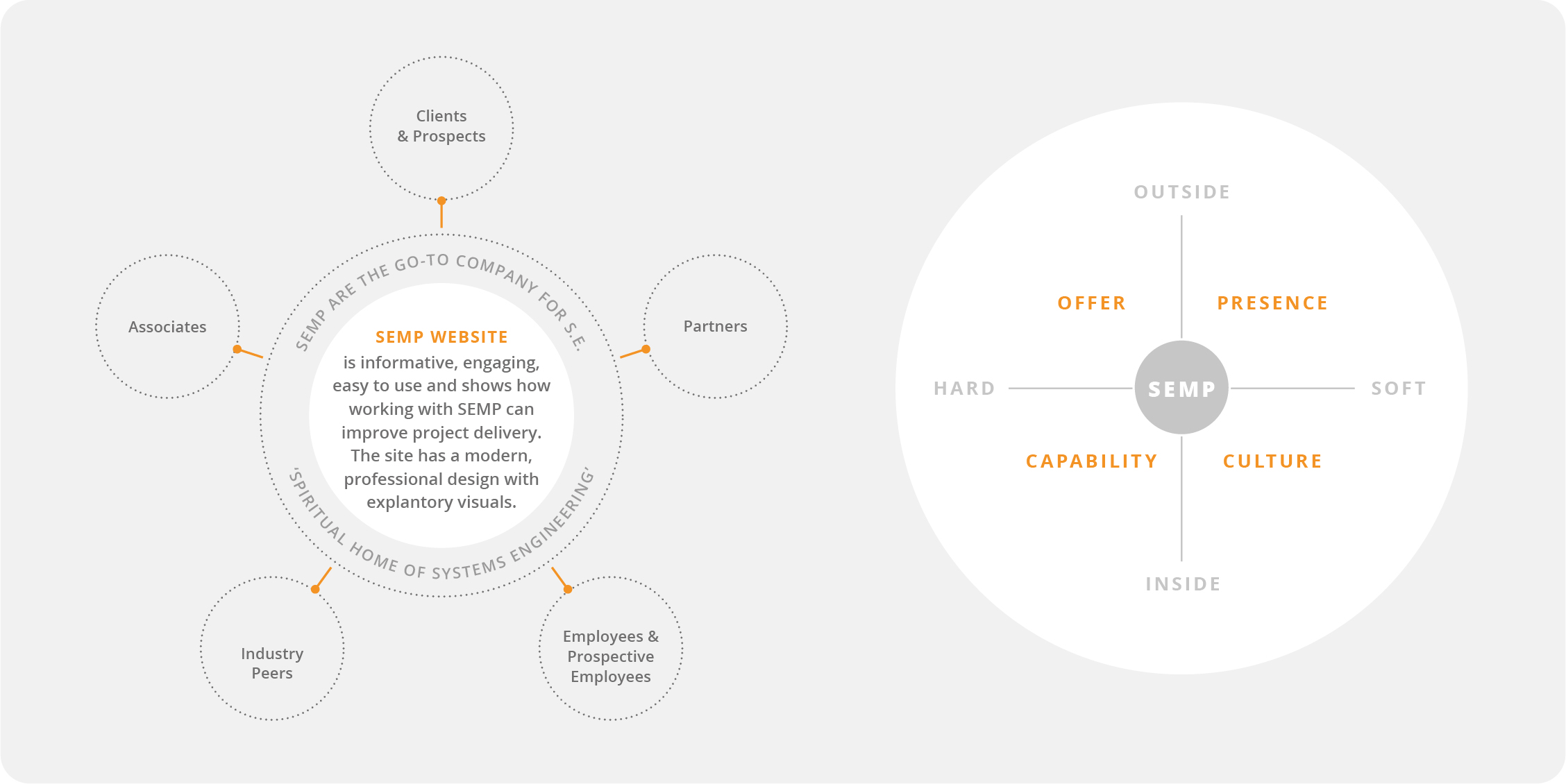 SEMP Ltd uses a systems engineering approach to improve outcomes and reduce risk in infrastructure projects. With a website that had been in place since they were founded in 2015, they approached us about a redesign.
To ensure we created something fit for purpose, we had an initial session to understand their aims and audience. Our suggestion was to start with an audit of their communications so we could provide an informed set of recommendations. Through interviews, questionnaires, and content reviews, we quickly got a 'big picture' view of their communication journey.

The Challenge
One of the key outcomes we established was to create:
A DIGITAL PLATFORM THAT TRULY REFLECTS SEMP: A WEBSITE WITH PURPOSE
Create a fit for purpose website that will allow SEMP to communicate their expertise, opinions and success. At present the website does not create conversation with its audience. The goal of a revised website design should be to build a platform that describes how SEMP solves client issues, SEMP's insights into the industry and encourages clients to get in contact with SEMP. The website and communication tools for early client contact should be reflective of each other and create a continuous journey.
To achieve this outcome we derived 3 subtasks:
Introduce a dual focus for the site; knowledge sharing and work winning/problem-solving. SEMP can create impactful thought-leadership pieces which could also lead to work-winning opportunities and wider community engagement.
Create a revised content structure that focuses on user behaviour and knowledge levels. The structure of the site should draw users to what you want them to see and what they should be reading. In line with this, content should be written and presented in a way that will allow for multiple levels of understanding (from a basic understand of systems engineering to experts).
Use of visual explainers and diagrams to accompany the text and key concepts.
The Process
With a clear set of aims, we started work on the site architecture. We wanted to create a flow through the website, targeting the experience to new users. The users can understand SEMP's capabilities, knowledge and expertise before reaching the contact page.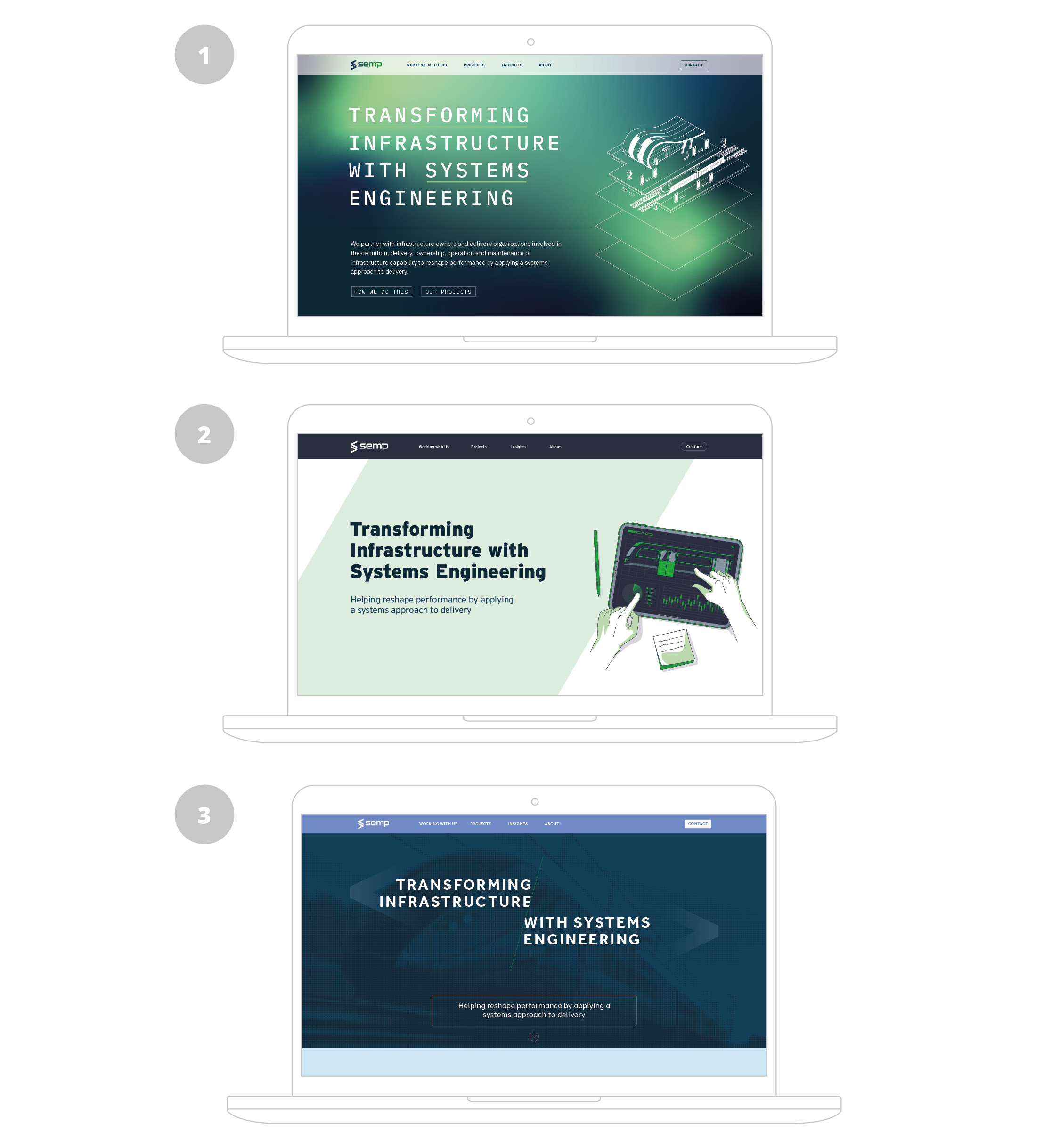 Brand
We moved on to the brand, specifically looking at its application to the website. We explored 3 routes of development, focusing on new assets. As a Key identifier for SEMP, we recommended that they retain the logo in its current form whilst they continued to increase brand awareness. Each concept contained new typographic options, colour swatches and visuals.
The 3 potential directions explored different ways to present SEMP, bringing out themes identified in the audit stage.
Concept 1: Technological | Clean | Modern
Concept 2: Organic | Dynamic | Collaborative
Concept 3: Confident | Professional | Disruptive
After some further sessions, we progressed to a combined visual approach, designed collaboratively with the team at SEMP.
Site Design
Using Adobe XD we created a working prototype for SEMP to feedback on, adding comments to the completed designs online. These were also shared with our developer partner so we had clarity around expectations and delivery throughout the process.
The design of the site focused on user experience and easy engagement. SEMP needed to be able to update the content easily and create interesting articles for their audience. The grid structure allows for this and provides an easily expandable system as the company grows. This also makes the site feel active, through moving the positions and varying the content on the homepage grid, SEMP can keep things fresh while working on new projects.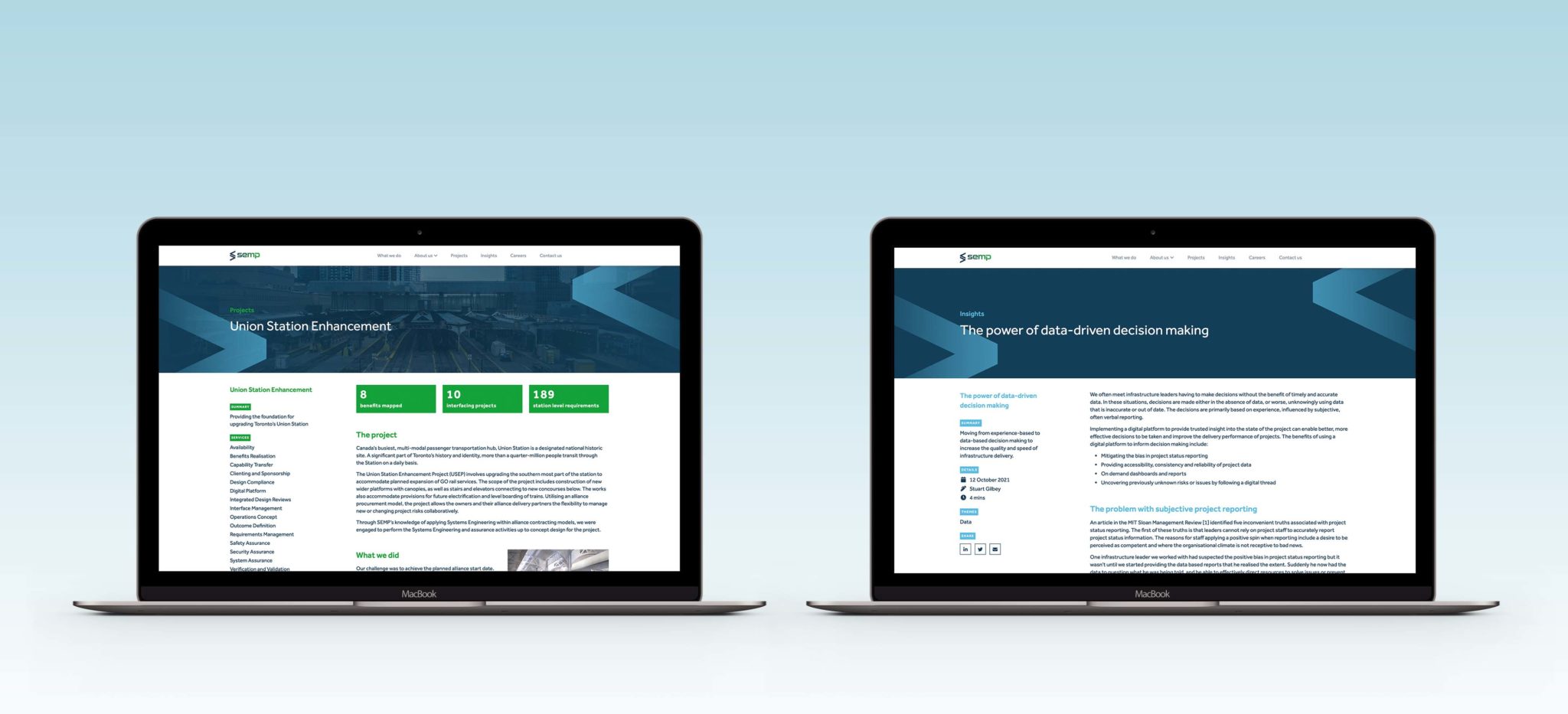 We built the site using the waterfall method, ensuring that we learned from each stage as we progressed. This also allowed SEMP to provide feedback and understand the final output incrementally.
On completion of the build, we provided a training session and guidance on how to manage the site. We implemented a system to track and resolve any bugs or edits so that we could continue to improve the website.
The Solution
The live site delivers the following outcomes:
A website built around information and education as tools to add credibility and create engagement with potential clients. This is achieved through improved case study layouts, a new insights section and the content grid on the homepage.
We created a new way to explain SEMP's services, framing the information in a way that helps users to relate to their challenges and how SEMP can solve them.
Implementing a new visual style that works collaboratively with the content, supporting key messages.