---
What made you want to work at TDL?
We heard a lot about how awesome the TDL team is at uni in terms of their mad skillz and being a solid team, so couldn't not be at least a little bit interested! Information design is a real skill to learn, outside of just having creative, and  having a tight-knit team of experts to help nurture that skill seemed like a really great gig.
---
If you could design one thing what would it be?
I would bring back Top of the Pops so I could leave my stamp with a new opening theme, redo their branding, set design and of course revive the cool 80s transitions on-screen.
---
If you had to frame one piece of graphic design what would it be?
Any of Susan Kare's icons – the person I wrote my dissertation about! Designing for the original Apple Macintosh while knowing nothing about computers herself and designing for users in that same boat. She was really creative with finding a genuine meaning to put behind her icons so people could actually use them. Function over form – but including the form, as they are too cool!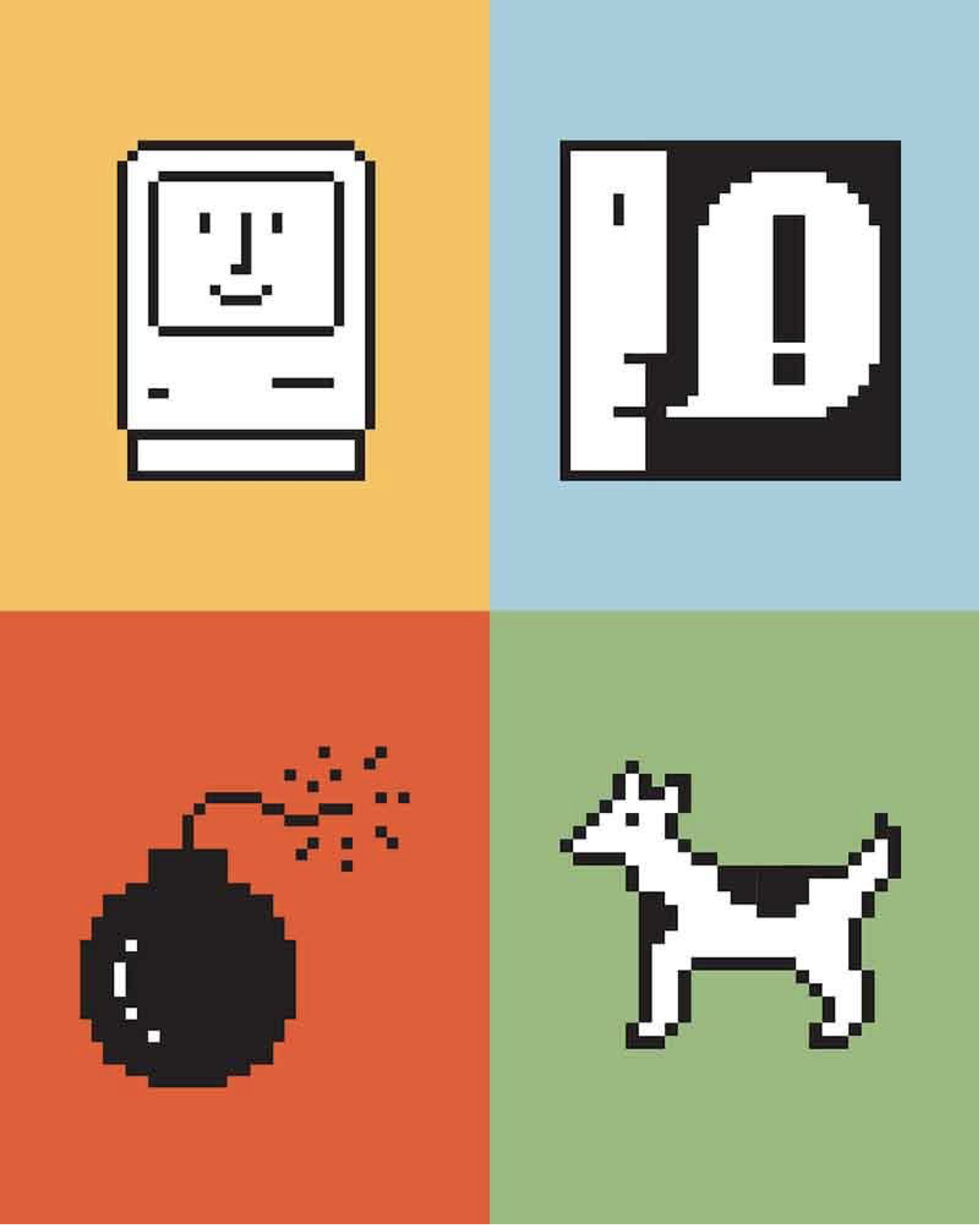 Image sourced from WomensArt
---
What's your "party trick"?
I can lick my elbow – cool, I know.
---
You're having a TV marathon this weekend. Which box set would you choose and which snacks would you provide?
GLEE – 100%. But only the first 4 seasons as 5 / 6 were tragic. As for snacks, you have to play to the crowd so might send out a google forms beforehand and gage what everyone is in the mood for. If it were just me, though – I would eat a whole Christmas pudding with brandy sauce to myself, and probably a cocktail on the side.
---
Who would be your dream client and why?
Edna Mode from The Incredibles. She has vision, darling.
---
How do you embody the TDL team values? (creative & innovative, enthusiastic team, responsive & reliable)
Creative & innovative: Looking back at my past work, I don't think I have a set 'style' or a go-to  which I think will lend itself to being flexible and creating a tailored solution to each individual design challenge.
Enthusiastic team: I'm always up for learning, receiving feedback, and I am always willing to ask questions when I don't know something or need more insight as a way to create better solutions and be more innovative.
Responsive & reliable: Always looking to improve, I strive to produce my best work whilst being open to change – and I hate being late, so time management is key!
---
What are three things you'd love to learn this year?
Tackled learning to crochet this year, so knitting is next on the agenda
How to swim
How to cook a Christmas dinner for a crowd – even the premise is daunting
---
You're organising the TDL Christmas party- where do you send us?
I've been begging my friends to go ice skating with me for years to no avail, so I would go for that! Maybe not after some drinks though…
---
Think about your job role at TDL – which animal best represents you at work and why?
Butterfly! Insert some cliché about how I want to grow and blossom overtime to become a super cool design beast – as a junior I'm more of a caterpillar right now, but determined that I can get there!