Those subscribed to our Newsletter, TDL Quarterly, will recognise the term 'TDL Loves'. It's an opportunity for the team to share an inspirational graphic, event or product that we've come across in our day-to-day lives. I recently attended the London Design Festival and was fascinated by the design details scattered along an urban walking tour, curated by architect Sam Jacob. Read on to discover why I had to include it in our TDL Loves series.
London Design Festival recently celebrated its 20th year of platforming great design in the capital, on a scale that befitted two decades of love for design. The festival sprawled across the city, from Richmond to Canary Wharf, showcasing design in all its facets.
The event was underpinned by 12 design 'districts', each with their own characteristic showcase of exhibitions, popups and creative spaces. LDF commissioned several of their own marquee events, one being 20 Things: Earl's Court by architect Sam Jacob. Described by Jacob as a 'non-traditional urban walking tour', the trail took visitors on a circuitous route around Earl's Court, via areas of curiosity chosen by Jacob.
This was the first time I had explored this area in a meaningful and considered way. Until now, Earl's Court had only ever been a brief stopover spot when I was travelling to different parts of the city. It was perhaps for a similar reason that Jacob was assigned Earl's Court as the space for this walking trail – an area entirely unfamiliar to him and often visited for practical reasons, but one that is rich with historical and cultural significance.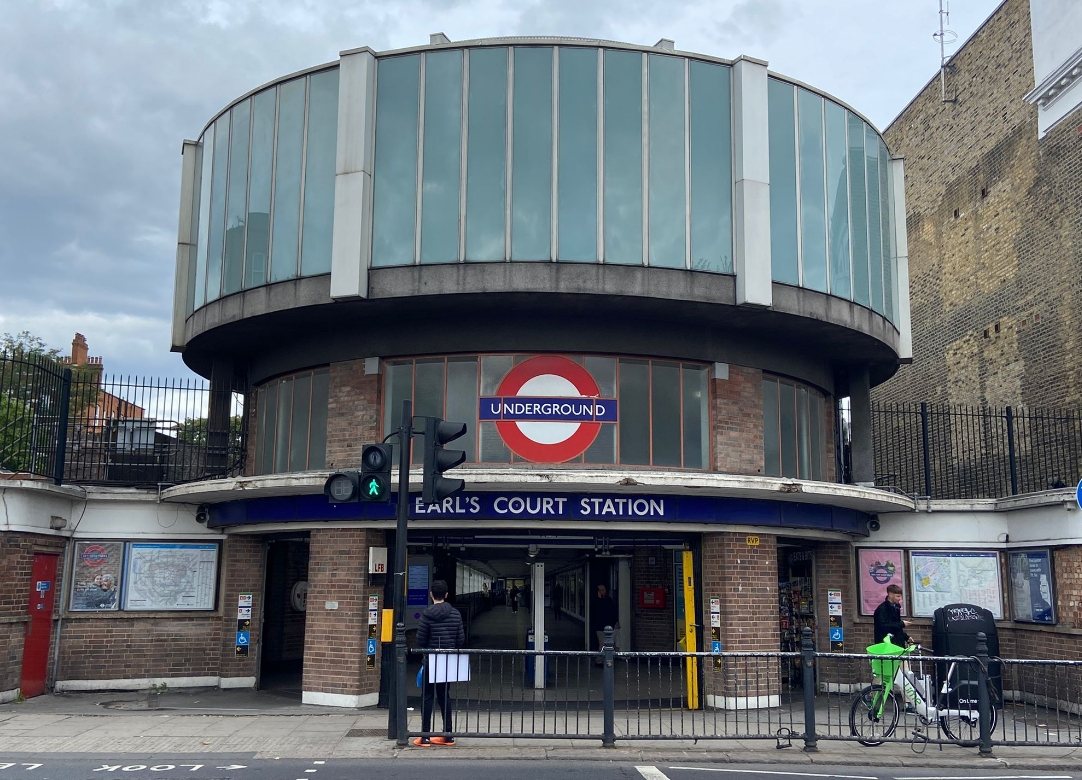 The trail took us to very specific areas that told stories about the history or utility of different micro-environments within the district. The first of which was the entrance to Earl's Court tube station itself. Jacob commented on the "Classic British 70s Modernism" on display. The art deco glass atrium sits atop the entrance like a crown and the circular brick walkway, which was originally intended to house the operations room, now simply provides a sheltered passage into the station and a home for a confectionary stand.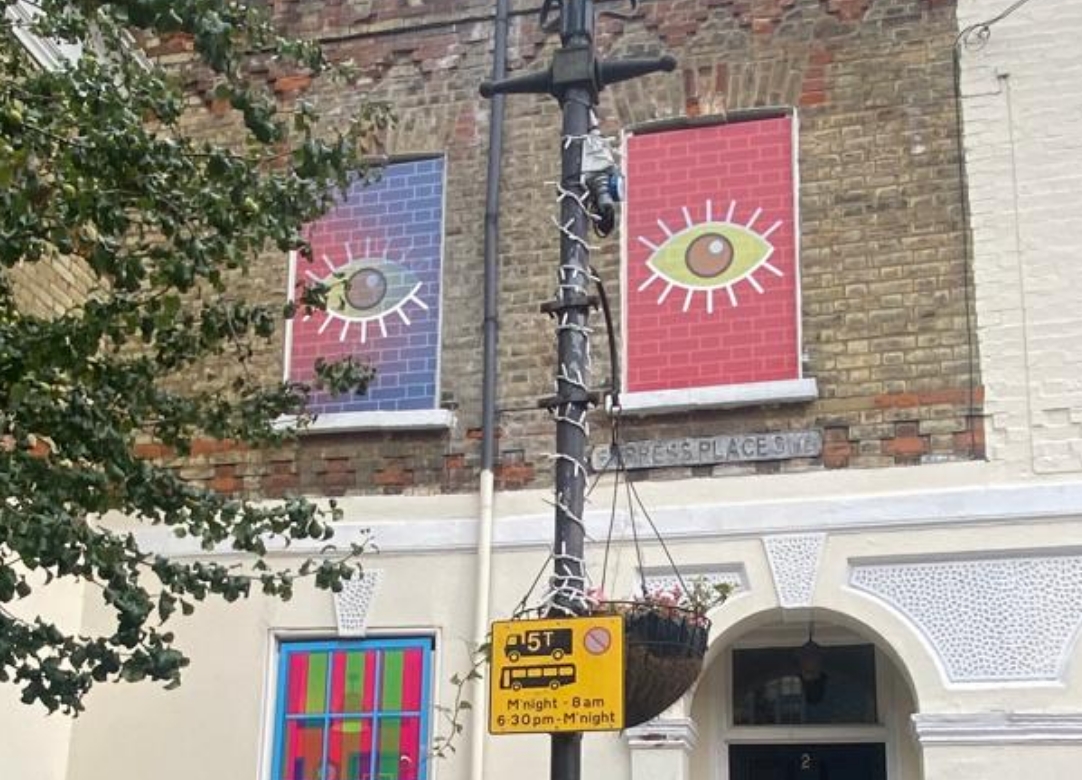 Jacobs has installed a curiosity of his own along the trail – a pair of colourful eyes set in a second floor window, winking at passers by. He alludes to the "always present relationship between eyes, looking and windows". Its elevated position forces the viewer to crane their neck and take a look beyond their immediate eye line. I suspect that the winking also mimics Jacob himself as he explored the area, peering and squinting at things that caught his attention.
How Jacobs managed to curate such a collection of interlinking 'things' is quite impressive and a testament to his research into the area, showing a willingness to get to know a new space intimately. It has given me an appreciation for the design details hidden within public spaces that tend to go unnoticed – forgotten anachronisms that no longer serve their intended function, left to become just part of the visual texture of the urban landscape. It highlighted the fact that design is seamlessly linked to all levels of life, however awe-inspiring or banal.
Enjoyed reading this TDL Loves blog? Receive insights, news and tips from the TDL team directly to your inbox by signing up to our newsletter!